2006
01.28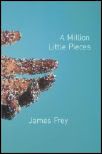 I remember when this book was first released in 2003. I worked at Borders in the inventory department. We received a single copy.
The publisher tried to promote it by giving each major bookstore a free copy for employees to read and hand sell the book. Apparently that didn't work, so they went after a much coveted marketing scheme: Oprah.
Yes, Oprah can sell books. It doesn't matter what genre, subject matter, or even if the book is well written. If Oprah backs it, it will be on the best sellers for weeks, perhaps months. After she announced her selection we were continually sold out. Finally the publishers reprinted and we had so many copies we had to make a big display and overstock the rest.
Then the truth came out via The Smoking Gun website. This non-fiction book, which is a memoir about alcohol and drug recovery, is actually fiction. The author, James Frey, had sent the manuscript to 17 publishers as a fiction novel. Finally Talese, an imprint of Doubleday, agreed to publish it as a non-fiction memoir. Frey was given a $50,000 advance.

There is much debate, not so much with the content, but the fact that it is categorized as non-fiction, when in fact it is a grossly embellished story. Frey is making a lot of money on a lie, albeit one which was primarily generated by the publisher. However, he accepted the terms. He embraced the lie and went on to write another book, which is categorized as fiction.
Should the publishers check the accuracy of so-called memoirs before they accept them as fact? Talese must have known there was a hint of fiction in the story, as the author had wanted it published as a novel to begin with. I guess the real question here is: Is Oprah the real victim here, or the brainwashed public? It is mind-boggling how this woman can sell books.
Share on Facebook